University of Louisville Men's Basketball


Senior Class, 2008

#43 Terrance Farley
#4 David Padgett
#3 Juan Palacios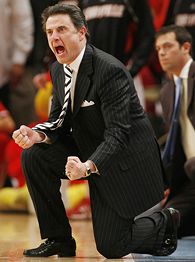 Sunday, March 2, was the home finale for the University of Louisville's men's basketball team. I was privileged to attend. The pregame ceremony honored three seniors who played their final game at Freedom Hall: Terrance Farley, David Padgett, and Juan Palacios. Head coach Rick Pitino, in his tribute to these three seniors, delivered no greater compliment than this:
These players played for the name on the front of the jersey, not the name on the back.
It's a compliment I hope to infuse in a different portion of the University of Louisville.
Labels: Louisville